Departing Biddulph at 7.30, we head south for a coffee stop en-route at Bicester.
With the success of the TV series "Downton Abbey", Highclere has had a renaissance in popularity. The Jacobethan facade was used for exterior shots of Downton Abbey and for most of the interior filming including the dining hall, the entrance room and the staircase.
The Castle's cellars became home to Egyptian artefacts after the 5th Earl, an enthusiastic amateur Egyptologist, sponsored the excavation of tombs in Thebes in 1907. He later accompanied archaeologist Howard Carter during the discovery of the tomb of Tutankhamen in 1922.
The 1st Earl had his park laid out according to a design by Capability Brown in 1774–1777, moving the village in the process. The remains of the church of 1689 are at the south-west corner of the castle. The Lebanon Cedars are believed to be descended from seed brought to England from Lebanon by the 17th century seed collector Edward Pococke.
We will depart Highclere at 5pm, heading back home.
Price includes admission into the Castle, Gardens and Egyptian Exhibition.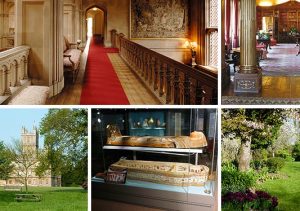 Pickup Locations
Drop Off Locations