The Enchanting Isle of Jersey
SINGLE ROOM SUPPLEMENT
£160
DATES:
Friday 13th September 2019-
Thursday 19th September 2019
Our tour starts with us travelling to the Hallmark Hotel, Bournemouth for our overnight accommodation.
After a leisurely breakfast we cross the Channel on Condor Ferries with upgrades to the Horizon Lounge from Poole to St. Helier and then transfer to The Merton Hotel for our four nights' stay.
This will offer plenty of time to enjoy its history, culture and food with a full day tour of the Isle, a visit to Jersey Zoo and a free day during your stay.
The Merton Hotel has a number of leisure facilities available to residents and offers a wide choice of food at the buffet style breakfast and dining experience.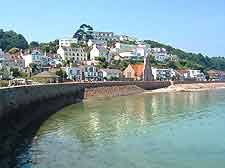 Merton Hotel & Hallmark Hotel
BASIS:
Dinner, Bed & Breakfast
YOUR BOOKING
PLAN YOUR BREAK WITH HOLLINSHEAD COACHES.
Call us on
01782 512209
and let us know the trip you are interested in and we'll check availability and confirm your booking.
Alternatively email:
hollinsheadcoaches@btconnect.com